Cairns – WW2 v Now Photo Booklet...From An American Archives' Photo Viewpoint
DISCOVER Cairns' forgotten World War 2 heritage. This photo booklet features a large collection of rarely seen archive photos of Allied military sites around Cairns during World War 2...
The book contains a rare snapshot of the city from 1942-1945 and is a natural extension of my 24 in number series "BRISBANE – WW2 v Now" etc.
US Services official photographers were active during WW2 here on the Australian Mainland (and elsewhere of course) when and in places where few others would have had security clearances to do so. These many thousands of B&W images lie 'doggo' in American Archives – few if any Americans would look at them but WW2 historically minded Australians would be really interested. Sadly, the images are not digitised and NARA (American Archives' National Archives and Records Administration – NARA) has no plan to do so.
My wife Jenny and I have made three trips to Washington to trawl (card file indexes – rooms full of such chests of drawers !) for these; we've copied some 3000 plus images complete with their surviving captions, but this is likely only around a third of what's there to be located.
Launched by Bill Cummings of Cummings Economics, Cairns – 10 October 2012.
* Present stocks are now sold out and we don't intend any further RE-PRINTING. We are working to "pdf" this and make available electronically / digitally. Please indicate your interest.
Sample Photos
Example photos included in CAIRNS – WW2 v Now, are:
These publications are an offshoot of my project to Bring Home The Images to Australia...
Cost
Cost $15. Free postage within Australia. That was for 'hard copy' and this photo-booklet is presently lumped in with pdf Brisbane WW2 v Now etc and others on a USB for $40.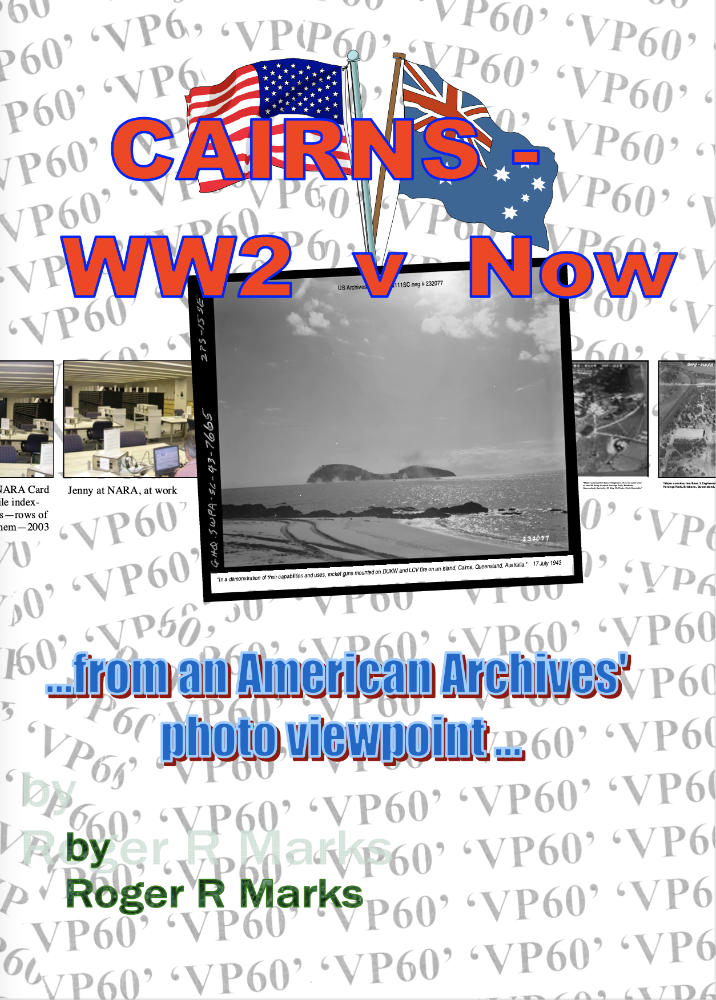 Order
To order this booklet, download and fill out our order form:
› Booklet Order Form (pdf)
› Booklet Order Form (doc)
Complete the form and return to the postal or email address provided on the form. The PDF version of the form can be filled out electronically or manually, printed and posted to us by mail, while the DOC version can be filled out using MS Word, saved to file and emailed to us.
Payment methods include cheque or electronic fund transfer. Items will be mailed upon receipt.
More Information: